Home
In The News…
Denver holds double-digit home price gains at end of 2015
Denver Post – February 23, 2016
Metro Denver led the nation's major cities for the fastest rate of home price appreciation for six months and held the second spot an additional four months.
But as 2015 came to a close, Denver had dropped to third, according to the S&P/Case-Shiller Home Price Indices for December.
Home prices in the Denver index rose 10.2 percent from December 2014 to December 2015, compared with a 5.4 percent gain measured nationally. Portland, Ore., saw an 11.5 percent surge, while San Francisco came in second at 10.3 percent.
In January 2015, Denver claimed the lead for the strongest annual rate of annual home price appreciation among the 20 metro areas that Case-Shiller tracks, before dropping behind San Francisco in February and March.
Strong household formations, a lack of homes for sale and lagging new home construction combined to create a frenzied market in Denver, which retook and held the lead for home price gains from April to August.
But by the fall, Denver's housing market started to show signs of getting winded. San Francisco took the lead in September and October, before a surging Portland moved ahead of everyone in the final two months of the year.
Denver's home price index showed its strongest stretch of gains last year since an even stronger run between February 1999 and August 2001. Back then, strong hiring in technology and telecommunications, combined with easier mortgage lending standards, drove up home values at an annual rate of 13.4 percent each month on average.
Averaging the annual increases across all 12 months, Denver managed to eke out San Francisco with 10.2 percent appreciation versus 10.18 percent on a seasonally adjusted basis.
Denver's streak of home price gains on the Case-Shiller index now stands at 48 months. But more modest month-over-month gains could push the rate of increase back into the single-digits.
"Prospective homebuyers are having trouble keeping up with price increases that outpace inflation and average wage growth," noted Quicken Loans vice president Bill Banfield.
Still, Banfield predicts Western states could maintain sustained home price gains given that buyers continue to outnumber the homes available for purchase.
*****************************************************************************************************
Denver expected to top nation in home price appreciation again in 2016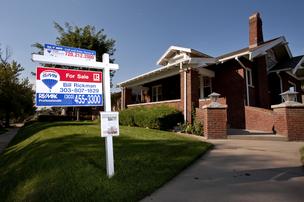 Although prices are expected to slow down from last year, Denver's expected to top the nation again in home price appreciation in 2016.
That's according to Clear Capital's Home Data Index (HDI) forecast for the nation, which predicts Denver-Aurora-area home prices to appreciate 7.7 percent during the course of the upcoming year, which would be the highest appreciation rate in the country.
Denver's 2016 appreciation rate compares with the 11.7 percent annual growth seen in 2015, which was also the highest in the nation.
Nationally, Clear Capital expects home prices to appreciate between 1 and 3 percent by January 2017, lower than the 5.1 percent appreciation seen in 2015.
"While we would love to sugarcoat the HDI data and declare that 2016 merely will be a normalization of the housing market to historical averages not seen since the late 1990s, several factors indicate that it could be another volatile year leading to ongoing uncertainty about the future of American housing," Clear Capital said in a statement.
******************************************************************************************************
Denver ranks as Zillow's "hottest housing market" in 2016
By Alicia Wallace
The Denver Post
The Denver Post
Posted:Tue Jan 12 07:21:44 MST 2016
Denver's healthy mix of home price appreciation, low unemployment and tech industry focus places the Mile High City atop Zillow's "Top 10 Hottest Housing Markets for 2016" rankings.The real estate site's Home Value Forecast evaluated metrics such as forecasted appreciation, jobless rate and income growth. Denver topped the list and Seattle, Dallas-Fort Worth, Texas; Richmond, Va.; and Boise, Idaho, rounded out the top five.

"Trendy tech centers like San Francisco, Seattle and Denver hogged the spotlight in 2015," Svenja Gudell, Zillow's chief economist, said in a statement. "But this year, the markets that shine brightest will be those that manage to strike a good balance between strong income growth, low unemployment and solid home value appreciation."

Denver's home values rose just under 16 percent in 2015 and are projected to gain another 5 percent this year, according to the Zillow report.

The Denver metro area's housing market posted a record year in 2015, with 55,509 home sales totaling $20.16 billion, according to a report released last week by the Denver Metro Association of Realtors.

Inventory shortages coupled with hordes of new residents settling along the Front Range contributed to the boisterous market that drove sales prices higher, created bidding wars, drove up rents and negatively affected lower-income residents.

Alicia Wallace: 303-954-1939, awallace@denverpost.com or @aliciawallace

Zillow's top 10 housing markets for 2016

1.) Denver

2.) Seattle

3.) Dallas-Fort Worth, Texas

4.) Richmond, Va.

5.) Boise, Idaho

6.) Ogden, Utah

7.) Salt Lake City

8.) Omaha, Neb.

9.) Sacramento, Calif.

10.) Portland, Ore.
****************************************************************************************************
Most bargains in Denver home listings aren't bargains, study shows
Metro Denver ranks among cities offering smallest discount when home listings use word "bargain"
By Aldo Svaldi
The Denver Post
The Denver Post
Posted:Thu Jan 07 00:01:00 MST 2016
Bargains are in the eye of the beholder, and that is especially true when it comes to home listings in many parts of the country, including metro Denver, according to a new study from Trulia.Trulia looked at real estate listings on its website between 2013 and 2015 that included the word "bargain" to determine what kind of discount the property offered versus comparable listings.

In 45 of the 100 markets studied, "bargain" listings came with no difference in price, making the term meaningless. Metro Denver was in a group of cities where there was a discount, but not much of one.

Denver tied with Dallas for the eighth-smallest discount, at 3.9 percent. Colorado Springs was the only other Colorado city on the list, with a 5.5 percent discount.

At the other extreme are cities, mostly in the Northeast and the Rust Belt, where listings that said bargain came with price discounts from 10 percent to 20 percent below comparable properties that didn't use the term.

Dayton, Ohio, had the largest discount in bargain listings at 19.6 percent, while Toledo, Ohio, was at 18.1 percent. In those markets, "bargain" meant a bargain.

Real estate experts warn buyers to do their own research when they see terms such as "bargain," "below-market" or "substantial savings" or to obtain independent appraisals.

"It is a relative term," said Kevin Risen, executive vice president of Coldwell Banker Residential Brokerage in Denver.

Distressed sellers needing a quick sale sometimes will offer a substantial price reduction, he said. But in a hot market such as Denver, where lower-priced homes can sell quickly, sellers haven't been as motivated to discount.

Risen said he hasn't heard the term "bargain" pop up much in metro Denver listings, and Trulia found in its study that less than 1.2 percent of listings contained the word.
*******************************************************************************************************
Denver housing market has record year in 2015 but cools in final weeks
Number of active listings dropped sharply in December, prices were flat
By Aldo Svaldi
The Denver Post
The Denver Post
Posted:Tue Jan 05 11:56:30 MST 2016
Metro Denver's housing market had a record year in 2015, but it also showed signs of exhaustion in the final month as prices stayed flat and the number of listings dropped sharply, according to a report Tuesday from the Denver Metro Association of Realtors."The Denver metro area continues to be the number one real estate market in the country," Anthony Rael, chairman of the DMAR Market Trends Committee wrote in a monthly update.

Metro Denver posted 55,509 home sales worth a record $20.16 billion in 2015. That was split between $16 billion for single-family homes and $4.16 billion for condos and townhouses.

But in the past three months, the housing market has moderated.

The inventory of homes available for sale fell 22.9 percent in December from the previous month to 4,384. And the 2,275 new listings in December were down by nearly a third from November and were even below December 2014 levels.

Despite the sharp decline in inventory, the average number of days on the market rose to 40 in December, up from 36 in November. Usually a drop in inventory causes homes to sell more quickly.

Home sales still increased 14.75 percent in December, reflecting in part a backlog of closings from November that spilled over into the final weeks of the year.

Home prices didn't move much from November to December, with the average price up 3.3 percent to $374,900 and the median price flat at $315,000.

But for the year, the average price of all homes sold was up 10.65 percent, while the median price was up 10.51 percent, making Denver a leading market for home price appreciation.

"December proved to be a great month for home buyers who were able to snatch up previously overpriced listings by making offers without competing offers, and without the same sense of urgency as in previous months," the report said.

Rael also noted that some builders were facing lengthy delays in getting new homes to buyers, who are facing waits of 10 months to a year in some cases.